An Oklahoma man claims that someone from a tractor supply company sent him a threatening dildo.
The 8-inch dildo has the phrases, "Ralph Is A D***" and "Tractor Supply. Don't Come Back" written in black.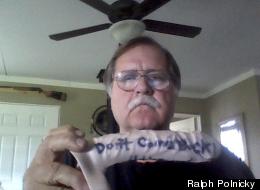 The man says the company messed up his order and he had words with the assistant manages. One of the managers yelled, "Get out and don't come back!"
Days later, the man said he received the "threatening dildo" package without a return address.
The man has been unable to get fingerprints from the dildo because "It had touched too many hands," but he hope to use the culprit's very unusual writing style to single him out and have him fired.